Cultural Insight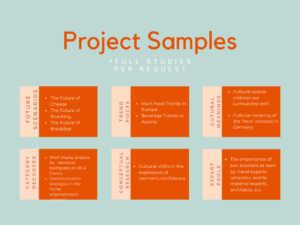 How do you stay rooted in this dynamic, ever-changing cultural landscape and how do you keep your audiences close
when their context changes every second? 
When tackling new markets, it is crucial to understand who you are talking to, and to phrase your messaging in the right context, and with the right timing.
I love helping clients navigate new markets, and ensure that their global marketing vision fits with local audiences.
By breaking language and cultural barriers, I help close the gap between companies' messages, and the local target market.
Having lived and worked in the German-speaking region, the United Kingdom, Spain and Eastern Europe, I understand a broad range of high potential markets in different areas of Europe. This has led to me preparing clients with the insights they need to enter new markets, from revealing German's breakfast habits, to decoding full categories in a cultural context eg. understanding Premiumness in the beverage sector in Austria.
Here is an overview of some studies I've worked on:
Premiumness in Austria in the Food & Drink Industry
The Future of Snacking
The Future of Breakfast
Cultural meaning of the "hero" concept in modern communication
Cheese Trends in Europe
The cultural contexts children live in
The perception of "Sensitivity" in the context of dental hygiene
Cultural shifts in the expression of women's confidence
Please note: Due to confidentiality agreements that are essential in the innovation field, I am unable to reveal the names of the various clients I've worked with.