Trendforschung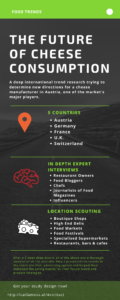 In 2019, I led an international trend research that took an intense look at the trends of the cheese industry. The research aimed to give a major Austrian cheese manufacturer the insights they needed to determine their new direction in terms of their product lines.
The goal was to inspire product and packaging innovation, and to set the foundation for a marketing strategy that is on point, and relevant for years to come.
The study was conducted in 5 different countries: France, UK, Switzerland, Germany and Austria.
In each country, individual trend experts looked into boutique food stores, high-end supermarkets, and local gastronomy businesses to identify the patterns that predict the next big things in the cheese sector. The study also looked into the overall context of developing food trends.
The results were then merged and built into hypothesises that were tested intense Expert Interviews. The interview partners were source locally and included established food influencers, chefs and writers.
Simultaneously, I applied a semiotic approach in order to decode the different types of packaging designs in the sector.
After this 3-week deep dive study, and a thorough analysis of all the available insights, I presented the results to the client and their advertising agency, and helped them develop spring boards for their future brand and product strategies.